Want that extra glare in your PC setup? I mean, why not let the RAM shine, when the other parts are all-brighty and jaunty? Well, that's exactly what today's post is about. Today, I'm presenting you with the best RGB RAM Review of G.Skill Trident Z RGB 32GB DDR4-3600.
But before we begin the review, let me clarify that G.Skill is not the only one offering RGB RAMs. There are other brands such as Corsair and Geil Evo X, the starter of lightning RAM modules, too. So the reason why I chose G.Skill over others is because of its unexpectedly lower price range. G.Skill is literally for hardware enthusiasts, especially when it comes to memory kits.
Alright, enough me talking, let's just get into the thing YOU came for…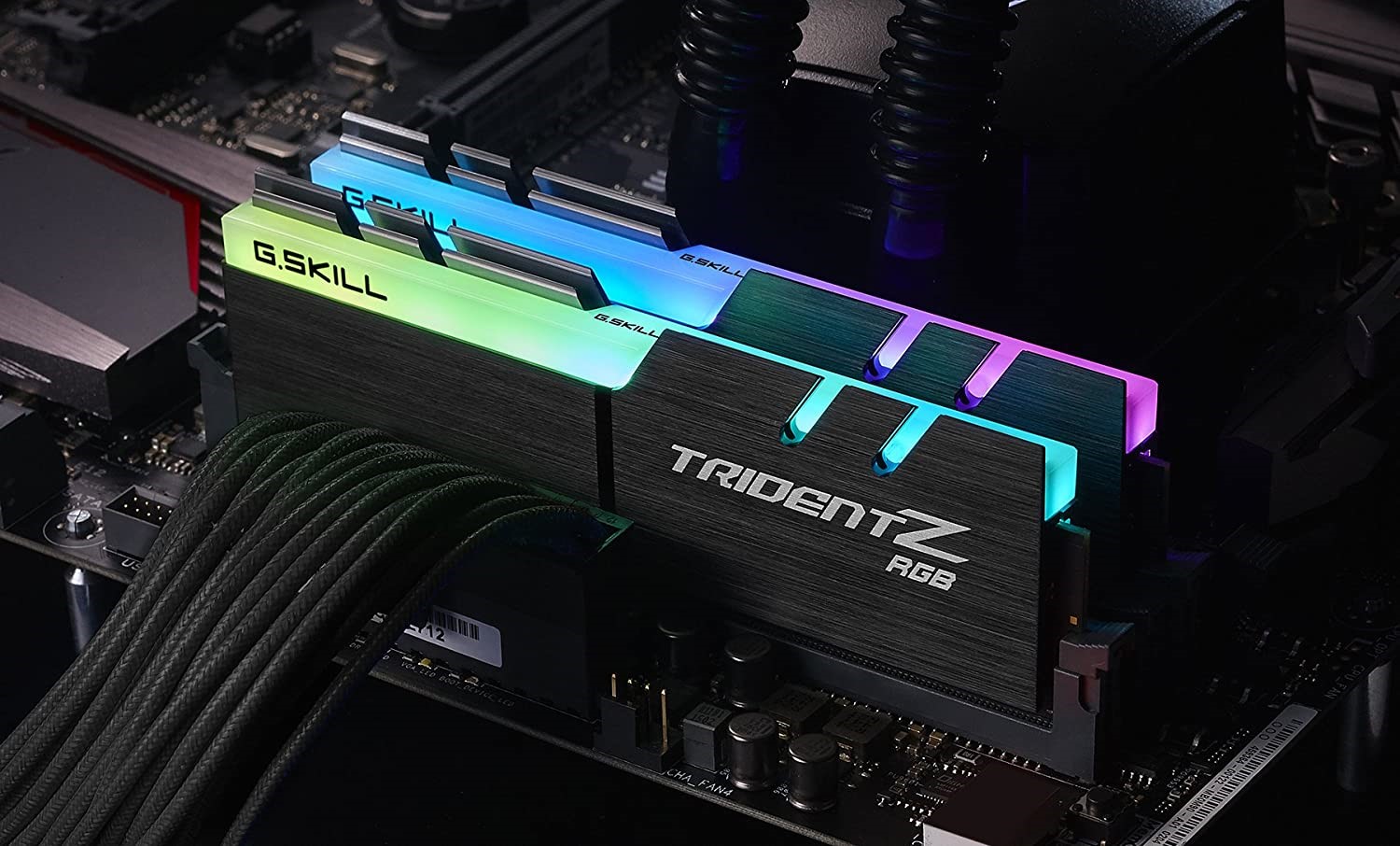 Features:
DDR4 3600MHz (PC4-28800) | 1.35V | CL 16-16-16-36 | RGB LED Lightening Bar | Aluminum Hair-Line Finish with Heat Spreaders | Intel XMP 2.0 profile | 69g weight
DDR4-3600MHz (PC4-28800), 32GB (8GBx4), CL16-16-16-36, 1.35 volt, Unbuffered, Dual Channel, with full length RGB LED light bar

Revolutionary RGB LED lighting effect designed to show off your system. Fluid rainbow wave default lighting effect.

Completely uncovered, full-length light bar. Highly screened ICs and custom 10-layer PCB for uncompromised overclocking performance , The Trident Z RGB DDR4 memory kit combines the most vivid RGB lighting with uncompromised performance

Luxurious hair-line finish aluminium heat-spreaders with aggressive fin design for highly efficient heat dissipation. Intel XMP 2.0 profile support for easy and simple overclocking.

Chipset: Intel Z270 Platform / Intel Z170 Platform CPU: Kaby Lake (LGA 1151) / Skylake (LGA 1151) Module Height: 44mm / 1.73 in. Module Weight: 69g. Limited Lifetime Warranty
Apart from that, you're good to go. So place your order soon as the stock might end, and never know when it comes back.
G.Skill RGB RAMs have become insanely popular over the past three years. These are primarily for Ryzen processors, that's why they're labeled RYZEN on the box. But, don't panic. These are also equally compatible for Intel machines, as long as your system's Motherboard supports MHz, which is in this case 3600MHz.
So make sure you get that correct by double checking your PC's motherboard's capacity. However, the good news is you can buy whatever style you need — 2400MHz, 3200MHz, and all the way up to 4266MHz. Bear in mind, the price difference also varies a lot, when choosing different style, and latency models.
G.Skill introduced an improved version of G.Skill Trident RGB, which is TridentZ Neo. But, after looking at reviews from the folks, and examining the sticks, I don't personally see the difference in the brightness or vividness of the RGB. The body of the sticks is a little bit different though.
Let's just look at the physical appearance and the performance of the RGB version— because it's not only about cool-flashy lights but also about the speed as well.
So these come packed in a plastic clamshell, and in a typical box. The RGB RAM has a nicely-finished, brushed or hair, whatever you want to say, aluminum skin on both sides. But the color isn't the same; one side is a little darker than the other one. The black metal plates on both sides cover the whole DIMM.
The actual LED light bar is on the top, a full-length white-diffused plastic bar that sits on the top of the sticks. So when you boot your PC, that white dull looking bar turns into various beautiful color combinations, and gives an extra shiny glare to your whole system.
The RAM does exactly what the firm advertises. You can overclock it using the XMP profile easily. And when it comes to speed, you can get whatever you prefer. What I'm reviewing today is CL 16, but you can even get CL 14 as well. That does not sum up as a huge difference, so, it really doesn't matter.
The only thing that matters is…does it provide the speed you'd expect from it? Well, yes, it does! The folks who are using it every single day love it. So no compromises on that at all.
The RGB lights look fantastic, too. You don't have to connect any extra wires or stuff. Simply install them, boot the PC, and the kits will instantly light up in all the multiple color combinations. The best part, you can control the light bar as well — any effect or speed, you want to have with the LED light, well, you can have it. How? That's exactly we're going to talk about below, so follow along. 
Control the TridentZ RGB with the G.Skill RGB Software
The lightning control software is available for download from the company's website. It's free by the way. Or, you can also control them with Asus Aura lighting control software.
You can have multiple different effects such as Rainbow, Breathing, Static, or Strobing. You can either control them individually or group them as well, to synchronize the patterns. That's cool because you can match the lighting setup e.g. speed, wave, color patterns with the other parts such as keyboard or ring lights. By doing that you'll enjoy a united linear lightning effect, which looks dope!
Want to Grab an Alternative Instead?
As I said earlier, G.Skill is not the only one providing RGB memory kits.
Don't miss our article onCorsair Vengeance RGB Pro
is here to compete with G.Skill, which is also very famous among the folks by the way. Corsair offers a slightly different design, a DDR4 covered with a nicely-finished black
metal-like
plate on both sides, an LED bar on the top that has a little slope in the middle. It also comes in multiple styles, latency cycles, and offers the same great RGB lights. But the 3600MHz variant is slightly more expensive than that of G.Skill.
Don't miss our article on Gigabyte Ga-G1.Sniper A88X Motherboard Review
And that compels most of the gamers to prefer G.Skill. But again, it's a matter of preference, you can look for more than twenty four thousand awesome reviews of the folks who are using Corsair RGB Pro, and then make up your mind. (Spoiler Alert: those reviews are convincing!)
Frequently Asked Questions (FAQ)
Which RAM has the best RGB?
 G is the best RGB ram. Skill's Trident Z RGB. Here, you're getting a high 3600MHz clock speed across two 8GB sticks, but it's the addition of a fully customisable, multi-zone RGB light bar along the top of each module that truly makes this bundle stand out, adding a little style and colour to your system.
What is the best RGB RAM for gaming?
1-TEAM XTREEM ARGB 16GB DDR4-3600MHz C14.
2-Corsair Dominator Platinum RGB 32GB DDR4-3200MHz. 
3-G. Skill Trident Z Neo 32GB DDR4-3600MHz
4-Colorful CVN Guardian 16GB DDR4-3200. 
5-G. Skill Trident Z Royal 16GB DDR4-4000MHz
Is it worth getting RGB RAM?
No one needs RGB. its an option at best. RGB is a fashion accessory and has nothing at all to do with performance.
Is 32 GB of RAM overkill?
For those who play modern gaming titles and wish for solid gaming systems, 32GB RAM is the best bet.
What is the fastest RAM in the world?
G. SKILL now holds the world record for fastest system memory speeds.