Reviews
Awesome Top 3 Best Laptops Under $1400
Get a premium laptop with a budget of 1400$ or less right now…
But, hey, hold on. Not so fast…
In the list of best laptops under 1400$ below, there are some awesome options for you. You'll be able to choose from premium quality laptops made for personal, professional, gaming, or entertaining purposes.
But there's one question, we suggest, you must keep in mind. And that is…why you need that dream laptop?
Is it for work? Is it for gaming or streaming? Is it for designing or editing? Or is it for your grandma to watch YouTube videos? When you decide on what you really need, the purchase decision will be much easier for you.
And, for this, read the detailed unbiased review of each laptop here to really get the perfect choice first-hand…
Okay, so, now you're ready and armed to jot down on your dream laptop's keyboard…
If you're looking for a lightweight, powerful, and vibrant ultraportable laptop while compromising on price, then don't go anywhere else. ASUS ZenBook 13 is the one that fulfills all your needs — and makes your every task super smooth.
This laptop is convenient for all your professional tasks like Web Development and Designing, Analyzing Marketing Campaigns, making presentations, doing video editing, and more.
Plus…if you're a fan of modern games like League of Legends, Pubg Pc, Call of Duty, then Intel Core i7-1165G7 Processor makes your gaming experience stellar. It comes with a thin and light frame that is easy enough to carry around.
All you can get it within $1400 — that is not too much compared to its fantastic features.
The built quality is excellent and the body is sturdy as if it falls on the floor, you won't see any damage.
You can enjoy your computing activities in crisp and clear view with a 13.3″ OLED FHD NanoEdge Bezel Display. So much contrast, meaning that black is actually black, and not dark gray — that's the realistic view of videos and streams.
ASUS ZenBook 13 comes with Windows 10 Pro operating system — with 512GB SSD, and 16GB LPDDR4X RAM. That allows you to multitask, and you can carry all the data like movies, songs, and more, in a huge storage — during traveling or pickinic you don't need the internet to search for more data when you have it.
The feature I personally loved in it is that its Face ID is fast, as it works best in even dark. Plus, the NumPad (numeric keyboard) on the touchpad makes entering the numbers easy and quick.
The downside of this laptop is that the OLED display consumes more battery, which can leave you in the middle of your work with low battery. If you can compromise on it, then you can make your daily-life fast and smooth. Folks are loving it for now on Amazon, and have rated it 4.4 stars — that is pretty impressive. You can get it today by clicking on the link below.
Key Features:
3-inch OLED 400 nits FHD (1920 x 1080) Wide View 4-way NanoEdge bezel display
Intel Core i7-1165G7 Processor (upto 4.7 GHz)
16GB LPDDR4X RAM
512GB PCIe NVMe M.2 SSD
Windows 10 Pro
Two THUNDERBOLT 4 USB Type-C, USB 3.2 Gen 1
NumberPad
Wifi 6 (802.11ac)
Pros
Super fast, handles multi task without being too warm
OLED 400 nits Full HD (1920 x 1080) Wide View
16GB LPDDR4X RAM and 512GB SSD
Port selection is good
Better Face ID
1-year international warranty
Cons
OLED display consume more battery
No upgradable RAM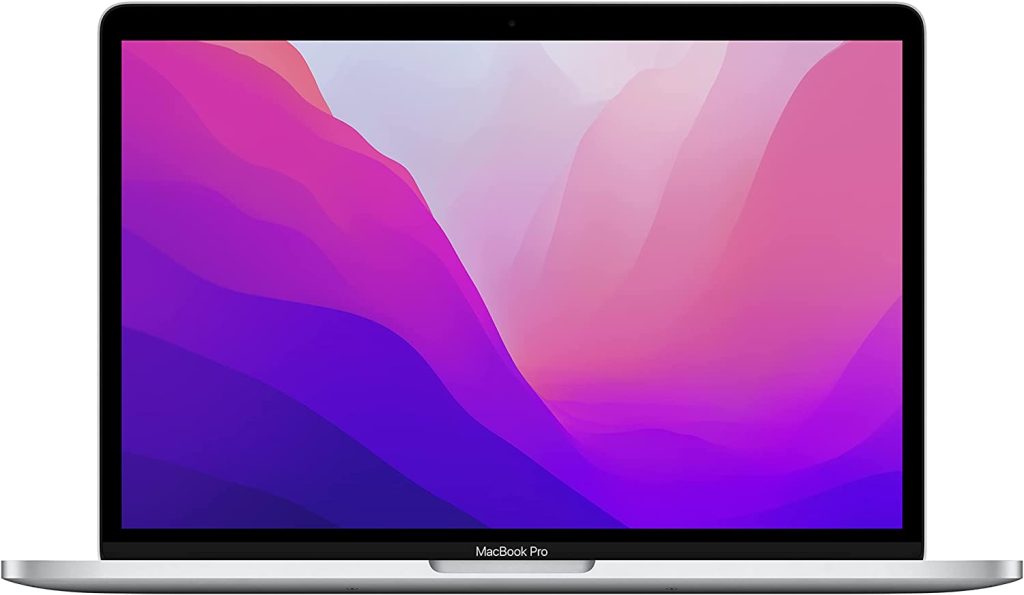 If you want a laptop with a long battery and an active cooling system, you're in for a treat. Let me explain.
This laptop comes with a brighter screen, better speakers, faster processor, and much-ballyhooed keyboard, that makes all your professional activities smoother.
Plus, if you like to play games, its long-lasting battery and high-end processors improves your gaming experience like nothing else. You can get a 13-inch FHD Retina Display with 500 nits of brightness, which gives you a realistic and brighter view of streams and movies. With 8GB RAM, you can sustain pro levels of performance, so you can run CPU and GPU intensive tasks for hours on end.
Apple made this laptop with long-lasting materials, which helps you to handle every task smoothly for a long-time — I'm talking about decades aheads.  This laptop comes with HD camera and studio-quality mics, which shows stunning quality during live streams or video meetings. You can get it for $1400 from Amazon.
Apple MacBook Pro gives you 512GB ​​​​​​​SSD​​​​​Storage, which means you don't have to worry about running out of memory during travel or family outings. Easily store everything like images, videes, projects, and more. Plus, you can edit, stream, share, play, and run multiple apps from a powerful and efficient Apple M2 silicon chip. I like its Backlit Keyboard, which makes your night sessions more productive.
Folks are loving its screen quality, battery life, and more on Amazon, and have rated it 4.7 stars — that's freaking impressive. So, get it today by clicking on the link below.
Key Features:
13-inch 500 nits FHD Retina Display
Apple M2 silicon chip
8GB RAM
512GB ​​​​​​​SSD ​​​​​​​Storage
Touch Bar
Backlit Keyboard
2 THUNDERBOLT port, headphone jack
FaceTime HD Camera.
Weighs 3 pounds
Pros
Fast & light weight
Backlit Keyboard
Up to 20 hours battery life
Headphone Jack
FHD Webcam
Cons
No internal optical drive
If you want a laptop that brings your gaming adventure back, look no further. Acer Nitro 5 is the only one, which will make you stand out in the gaming world.
You can get a 17.3″ FHD 144Hz IPS Display that makes your gaming session fluid, unbroken, and unmatched. Plus, Intel Core i7-12700H processor allows you to run Xbox live, Steam, Epic games, and more — without any lag or fan noise.
Built quality is robust, and you can play crystal clear videos on higher graphic settings. With 16GB DDR4 RAM, you can multitask, which makes your computing activities more quicker. And it boots up and shuts down in about 5-7 seconds that helps you to remove any extra load in a minor time. You can get a 1TB SSD that helps you to save all your rear memory without any fear of loss.
One of its key-feature that I really like is its Red Backlit Keyboard, which gives you a dramatic view in darkness, so you can play games at night times or do work without turning on your room lights.
If you're looking for a gaming station in Laptop type, then this is it. Acer Nitro 5 will help you to handle all your professional tasks in a real time. Customers are leaving positive reviews on Amazon, and rated it as 4.5 stars — that shows its fantasy.
Key Features:
Intel Core i7-12700H Processor
16GB DDR4 RAM
1TB PCIe Gen 4 SSD
NVIDIA GeForce RTX 3050 Ti
3-inch FHD 144Hz IPS Display
Red Backlit Keyboard
USB 3.2 Type-C Port, USB 3.2 Gen 2 Ports, USB 3.2 Gen 1 port
HDMI
Wi-Fi 6 (802.11ax)
Weight  6.61 pounds
Pros
FHD large 144Hz IPS Display
Comfortable keyboard
Good port selection
Fast, takes 5-7 seconds to boot up
Super AMD processor
Runs cool & smooth on heavy load
Easy to upgrade
Cons
Battery life is not convenient
Fairly Loud while playing heavy games
Conclusion: Which one did you like?
I personally love and recommend the Apple MacBook pro. Not because I'm a die-hard Apple fan, but because Apple never disappoints. With its latest M2 Chip, there's nothing that you can't do on this device; video editing, 3D illustrations and rendering, web development, graphic designing, streaming, and gaming; you can do pretty much everything. And because it's Apple, you know you can trust the quality and longevity of the peace. But please don't come at me if you're not a fan of Apple, (haha) because the other two laptops in the list are also powerful.
So tell me which one you are going to get? Comment below and let me know.