Reviews
Powerful and Affordable: The Top 3 Laptops Under $500
Prepare to be amazed by the outstanding quality of the best laptops under $500!
Today, we unveil a handpicked selection of budget-friendly laptops that will not only help you save money but also fulfill all your computing requirements.
Whether you're seeking to reduce costs or meet your specific needs, these laptops are here to impress.
Get ready to discover the perfect balance between affordability and performance in our curated list.
Laptops that we've explored and discovered, are solid-built, nicely designed, offer decent battery life, display true colors, and are capable of performing high-end tasks.
What's remarkable…
You can even do gaming and streaming with one of these laptops. These are real gems especially for students hunting for a solid laptop that fits the bill. And not only limited to college students, we are recommending these notebooks to any one in need.
No matter if you need one for office work, or for personal use — these tech-books will back you up.
So, without wasting any more time, discover below your favorite laptop under 500$ right now.
If you want a powerful and portable laptop to do your professional activities, then don't go anywhere else. Acer Aspire 5 delivers on every aspect of everyday computing. I'll tell you how.
This fast and slim laptop covers all your professional activities like writing, attending video meetings, making presentations, doing browsing, using work-related software, and more. Plus, if you want to kill your team some time, you can get a light gaming touch as well. You can play League of Legends, Minecraft, PUBG PC Lite, and thousands more games.
You'll get an AMD Ryzen 7 3700U Mobile Processor that handles every complex task, and allows you to multitask without any lag or heat. 15.6-inches Full HD IPS Display gives you sharp and crisp visuals. You can play HD movies on higher resolution settings (1920×1080).
The feature I personally love in this laptop is its screen brightness — that gives you a clear and bright view of video streams in any environment. You can keep your eyes free from strain and watch or work for long sessions using Acer BlueLightShield — that's real eyes protection technology.
Acer Aspire 5 comes with 4GB DDR4 memory that handles all your computing activities, and makes your tasks smooth and faster. With 128GB SSD, you can store all your personal data, music, movies and more. And can carry all this data during travel or group tours.
The built-in quality is excellent, saving you from the tension of getting another one next year. It is operated in Windows 10 in S mode — later you can upgrade to Windows 10 home or professional for free. But Windows 10 in S mode is good for all activities.
You'll get a Backlit Keyboard, which makes your night sessions more productive — I love working with this backlit keyboard during nighttime for focused work.
If you want a laptop while considering the budget, then this is it. Acer Aspire 5 comes with 7.5 hours battery life — which is more than enough, but obviously, battery consuming depends on your activities. Folks are loving this laptop on Amazon, and have rated it 4.5 stars — that's the proof of its premium features. You can get this laptop for under $500 by clicking on the link below.
Key Features:
AMD Ryzen 7 3700U Processor (up to 3.5GHz)
AMD Radeon Vega 3 Mobile Graphics
6-inches full HD (1920 x 1080) widescreen LED backlit IPS display
4GB DDR4 Memory
128GB SSD
Windows 10 in S Mode
Backlit Keyboard
1 × USB 3.1 Gen 1 port, 2 × USB 2.0
HDMI
Wireless type (802.11ac)
Pros
Screen resolution is clear and bright
Backlit Keyboard works fine in any environment
Fast, slim, and lightweight
Boots up in few seconds
Easy to upgrade
Cons
No port for SD card
Consumes more battery at high temperature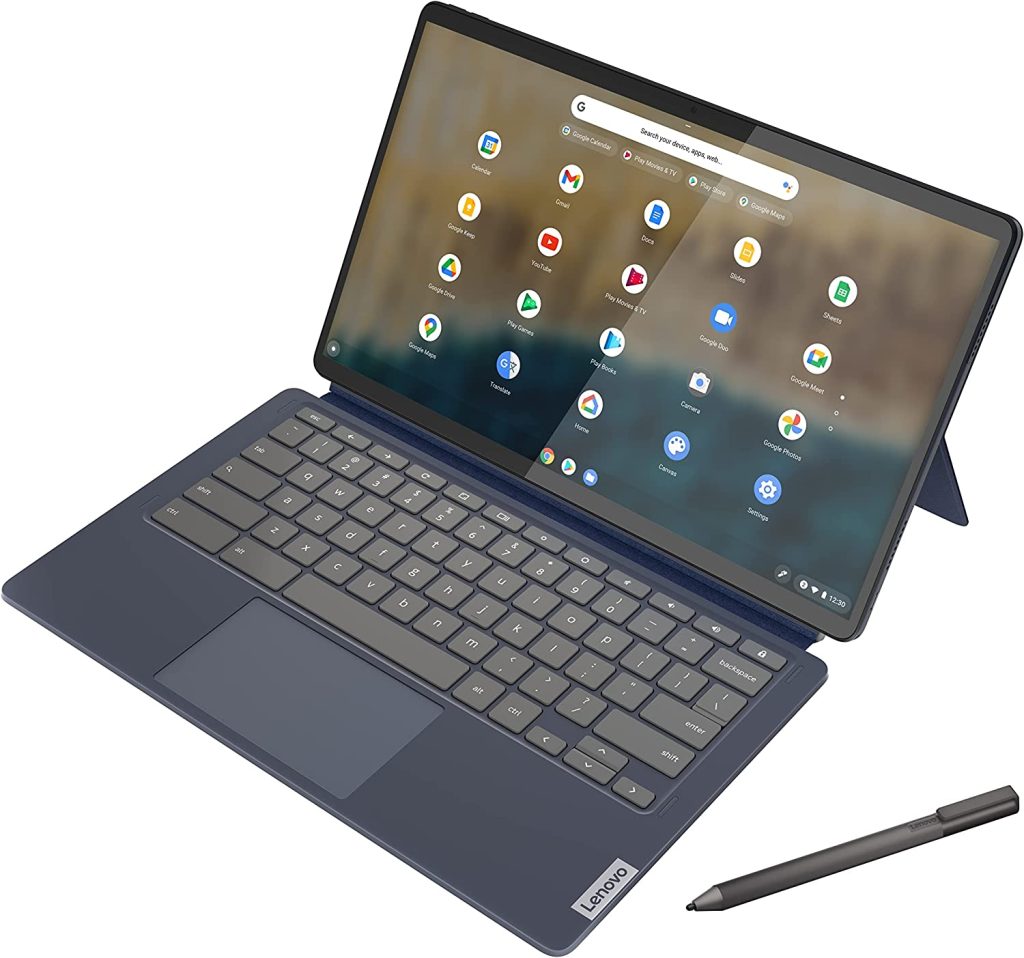 If you want a laptop with outclass design, performance, and smart amplifier technology, then look no further. Lenovo IdeaPad Duet 5 Chromebook is everything you need — fast, smart, and an amplifier. Let me explain.
This laptop is best for handling all your professional and hybrid work activities like writing, attending video meetings, web development and designing, video editing, and more. With the Qualcomm Snapdragon 7c Gen 2, you can multitask and play mobile games as speedily, simply and securely.
You'll get a slim and light Samsung OLED display with 13.3″ FHD screen (1920 x 1080) at 400 nits bright, which makes your video streaming crisp, clear, and realistic. You can play any movie at higher resolution settings without feeling any impact on screen colors or quality.
The feature I personally love is that you can switch this laptop in tablet mode — and enjoy your favorite movies at an adjustable angle.
The Lenovo IdeaPad Duet 5 Chromebook comes with 4GB RAM and 64GB SSD, which allows you to perform your tasks faster. Storage is somewhat low I'll be honest, at $500, it should've been at least 128GB. But if you ever run out of storage, you can always purchase extra SSD storage of your desired size or a cloud service. 100GB cloud storage can cost you a couple of dollars, really.
This laptop is ultra-portable and versatile with a fabric folio keyboard, and ultra-light and slim chassis — that makes this laptop fantastic to carry in school, office, and even in public places. Plus, you'll get four speakers for clear audio. It has 15 hours battery life, which makes it awesome if you want its use for all day long.
This Chromebook is easy to use — even your 7-year kid can use it.
Ever seen a laptop with a rear camera? With Lenovo IdeaPad, you'll get a 8MP rear camera that can be used to make videos and capture HD resolution images. Plus, 5MP front-facing 1080p FHD cameras for streaming and video calls. All you can get under $500, which I think is an excellent deal.
Customers are loving this laptop on Amazon, and with 256 Reviews it gets 4.3 stars rating. You can get this laptop today by clicking on the link below.
Key Features:
Snapdragon SC7180 Processor
OLED 13.3″ FHD Touch Display
Qualcomm Adreno Graphics
4GB RAM
64GB SSD
Chrome OS
4 speakers
8MP Rear & 5MP front-facing camera
Weighs 4.09 pounds
Pros
Affordable
4 speakers with smart amplifier technology
Up to 15 hours of battery life
Front and rear camera
OLED Touch Display
Can be switch into tablet mode
Cons
Port selection is not good
No headphones jack
If you want a fast, flexible, and fun 2-in-1 convertible laptop that enhances productivity in the workplace and entertainment at home, then Lenovo Chromebook is perfect. Let me explain how.
This laptop comes with 4GB DDR4 RAM and a 32GB SSD that makes your activities faster, and gives you enough storage to store your personal documents, applications, presentations, and photos. The storage isn't quite a lot, frankly. But you can always purchase cloud storage from service providers like Google and Dropbox if you ever run out of it.
Plus, you'll play crisp and clear video streaming with 15.6″ FHD (1920 X 1080) Touchscreen Display. As far as the sound is concerned, you'll enjoy music with crystal clear sound with the convertible Chromebook's Dual stereo speakers.
The feature I personally love in this laptop is its 360° movement  — that lets you flip the laptop in any angle. This 360° movement is good for group activities, or watching movies at a comfortable angle.
You'll get an Intel Pentium Gold 4417U Processor, which makes your multitasking smoother and consumes less battery.
The best part is that it comes with a 1 year limited manufacturer's warranty — which means you can always return it if you feel like it's not for you, and get all your money back.
With up to 10 hours battery life, you can handle all your tasks, and bring this laptop anywhere and anytime.
Customers are leaving positive reviews about this laptop on Amazon, and rated it as 4.4 stars. You can purchase this smart and light weight laptop by clicking on the link below.
Key Features:
6″ FHD (1920 X 1080) Touchscreen Display
Intel Pentium Gold 4417U Processor
Intel HD Graphics 610
4GB DDR4 RAM
32GB SSD
Chrome OS
USB 3.1 Type-C Gen 1 ports, one USB 3.1 Type-A Gen 1 port
360° movement
Weighs 4.4 pounds
Pros
Fast and flexible
It has touchscreen display
360° movement is good
Battery life is excellent
Built-in virus protection
1 year limited manufacturer's warranty
Cons
Storage is low
No backlit keyboard
Conclusion
I hope you found this article helpful!
Are you considering buying one of these laptops? If you ask me, I love the Lenovo IdeaPad here in this list.
It has solid features like 64GB SSD storage, 4GB RAM, a tablet mood, backlit keyboard, and two rear and front cameras. This is a pretty solid machine that can last for a while.
Of course, that was just my personal preference, the most important question here is: Which one do you like?
Comparing the price and the features, frankly, these laptops feel like a good deal.
Let me know in the comments.