Apps
How to Fix the Checkpoint Required Error on Instagram?
Very recently, from April 21. 2022, Instagram users are facing the problem of the "Checkpoint Required error". In this error, a plain screen pops up while using the Instagram app, and there is an error message "Privacy Check". 
Here, in this article, we'll discuss this error and provide you with possible solutions to fix this error!
Checkpoint Required Error
This error is indifferent to your device, as it pops up on Android and iOS devices. Checkpoint Required is a feature on Instagram that gives you privacy and ensures your account security, as due to this feature, no one at some different location can log into your account. 
It was a very superb feature, but for some months, this feature is not doing its job properly. Due to its malfunction, it pops up on the Instagram feed when the users try to log in, watch the reels, tap on someone's profile or send a message to anyone.
Sometimes, this happens when the "Checkpoint Required", or "Privacy check" error pops up on the Instagram app, the whole application is paid, and the screen becomes black. 
Instagram officials haven't responded to this problem yet. You have to fix it on your side yourself.
Fixing Checkpoint Required Error on Instagram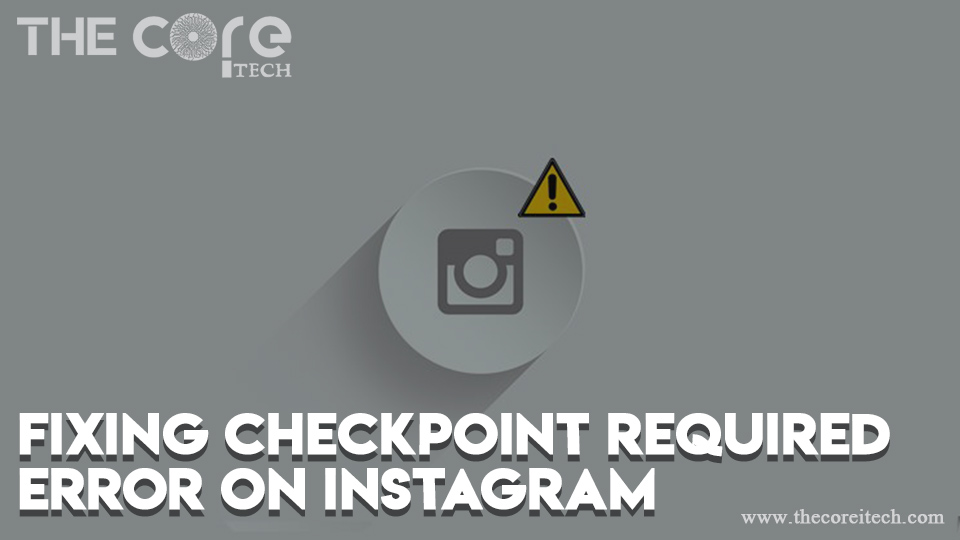 As Instagram hasn't announced the solution to this error, people try on their own to fix this solution and share with others on social media platforms their experience of what has helped them fix the issue.
So, in this post, we have piled up all the possible solutions to this problem. Try them, one by one, to get escape from this issue.
Let's have a look at the solutions;
Update the Instagram App

Verify that you're trying to log in

Restart your device and then Reinstall the Instagram app

Deactivate your Instagram Account

Create an Alternate account on Instagram
So, these are all the possible solutions. Here for your ease, we have described them one by one;
1. Update the Instagram App
It is common to experience for Instagram users who are using the oldest version or an outdated application of Instagram to experience this issue. Then, if you're facing a problem and using an outdated version of Instagram, then, first of all, update your Instagram application. It will most probably sort out your problem.
Depending on the device you're using, go to the Play store or App store, search Instagram and if there is an updated version, click on it. Once you have updated your app, check if the problem is resolved or if you are still facing it. 
If it's still there, try the other solution.
2. Verify that you're trying to log in
Secondly, close the Instagram app if running in the background and log out of your account. Then, open the app and log in to your account. Then, you will see a confirmation notification to ensure it's you trying to log in. 
Click on "It's me". Button to confirm that it's you. After that, go to the app and use it.
3. Restart your Device and then Reinstall the Instagram App
If your issue is not resolved yet, then try the third one. For this, you first restart your device to clear any issue it is causing your device. Then, uninstall your Instagram app, go to the Play Store or App Store, search Instagram, and install it again.
Log in to your account and use the app normally.
4. Temporarily, Deactivate your Instagram Account
In this method, you need to deactivate your account once and, after some time, activate it again so that your error goes away and your Instagram can run properly and normally. 
To follow this method, you'll have to do the following steps on your computer or laptop;
Firstly, open the web browser on your PC.

Go to your Instagram.

Log into your account,

On the bottom right corner, there's a profile button; click on it. 

Go to the "edit Profile" option.

Then, click on the button "temporarily disable my account".

After that, you'll have to choose one reason for your deactivation.

I'll suggest you select "Just need a Break".

After 3-4 hours, reinstall your Instagram app from your mobile phone's Play Store.

Launch the Instagram app and log in to your account.
After performing this step, you'll no longer see the error, but if it is consistently there, follow the last step.
5. Create an Alternate Account on Instagram
It's the final solution to get your issue resolved and fixed. This method will root out your problem as we stop using the specific account on which this error is annoying because this error is account specific. If you create an alternate account on Instagram and continue your activities, it's the best option. 
The alternate profile you've signed in to will not experience this error anymore, as here's on this account. Everything is new and no previous history of error linked to it.
Frequently Asked Questions (FAQs)
Here are some commonly asked questions about the Checkpoint Required error;
How long does the Instagram issue last?
If you are facing any issues on Instagram, it may be due to server problems at Instagram or internet connection problems at your end. Wait 24 to 48 hours to fix the issue, then try again.
Why am I getting an error on Instagram?
It's advisable to restart your device if you're facing any problems with the Instagram app. If it doesn't help and you are still facing the problem, try to use Instagram on your wifi and mobile data, as it may be due to a weak or sluggish internet connection.
Is there a need to make an Account on Picuki?
No, there is no need to make an account on Picuki (the Instagram viewer app. You only need to download the app from the play store or app store.
Why is my Instagram showing a Checkpoint error? 
If your Instagram is showing a Checkpoint error, it may be due to two main reasons. One reason is that you're accessing from a different location than the location you always use your account. Or when you log into an unlawful third-party app, you can use the tools there to increase followers, comments, and likes.
Wrap up
Till now, it unknown what's the exact reason for this "Checkpoint Required Error". Maybe there are some server issues at Instagram's end. Sometimes it is due to your internet connection problems, but if you face any issue regarding this, follow all the steps mentioned above to resolve the issue. These will surely help you.