Apps
How to Create a 3D Avatar on Instagram?
Like Snapchat's Bitmojis and Apple's Memojis last year, Facebook also revealed its avatar stickers that can be customized.  Now, these stickers are available on approximately all social media platforms, including not only, Snapchat, Facebook and messenger but also Instagram.
According to the cooperation behind Facebook, WhatsApp and Instagram (Meta) now, Instagram stories have 3D avatars. But its advancement and some features like the clothing of the user are under development. The main purpose of these 3D avatars is to give the characters individuality.
These 3D avatar Stickers were announced by Mark Zuckerberg on his Facebook page. But these 3D avatar stickers are only active for users that live in Canada, Mexico and United States.
In this article, we'll discuss all about 3D avatars and how to create them on Instagram.
How to create a 3D Avatar on Instagram Stories?
The more developed and advanced 3D avatars (more detailed than previous avatars) are released Meta for use on Messenger and Facebook. Now, these 3D avatar stickers are used on Instagram for the first time in both stories and message options.
But the question arises of how to create 3D avatar Stickers on Instagram Stories. Here we'll describe the process in the following easy steps;
First, make sure you are using the latest version of Instagram. If not, simply go to the app store or play store according to your device and install the updated version of Instagram.
Now open the Instagram app.
On the upper left corner of the screen, there is a "+" button; click on it.
There is an option of "Add a New Story". Click on it.
Then, when a new page is opened, there is a sticker option in its upper right corner. Click on it.
Then click on the option "Add Avatar Sticker".
Then there will be a pop-up saying, "New Create your Avatar." The process will start when you tap on it.
Then, tap on "Create your Avatar"; after a few minutes, your avatar will be ready to post your story.
Latest Upgrade in Avatar
The latest upgrade in Avatar works so amazingly that it has facilitated its users to use their same avatar on all the social media platforms, i.e. Messenger, Facebook, VR, Instagram, Snapchat, etc.
Messenger, Facebook and Instagram users use several avatars for their social accounts.
Why are Avatars recommended?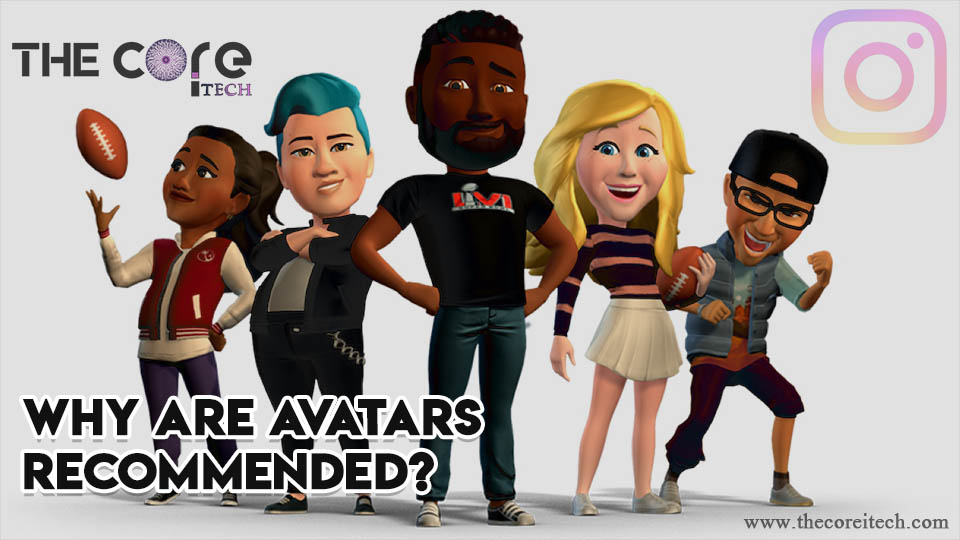 Previously, it was necessary to upload a profile photo and give your brief description on all social media platforms, but metaverse works differently. On it, there is no need to upload your picture and describe yourself, the metaverse is more dynamic, and here your identities and profiles are represented by the visual graphics.
The visual graphics field is wide, and there are many options. It may include clothes, shoes, bags, anything, even collectables such as NFTs. According to Meta, in future, social media users will carry avatars across their metaverse or the internet.
"An Ávatar is actually a smallest unit or building block of Metaverse."
So, as an avatar is the smallest entity of the metaverse, you can use your avatar identity for all the digital possessions in the metaverse.
Frequently Asked Questions (FAQs)
How do you make a 3D avatar?
If you want to make a 3D avatar, then follow the steps below;
Take a selfie.
You can also use and select one from the collection of pre-made avatars.
Then, you need to customize your avatar.
There are 300+ options for customization.
Choose and select from them of your own choice.
Import your NFTs in the future.
Finally, export your avatar.
Why don't I have avatar stickers on Instagram?
If there are no avatar stickers in your collection of stickers on Instagram, then you have to uninstall your Instagram app and install the updated version of Instagram from Play Store or App Store. It is because 3Davatar stickers are only available on the latest version of Instagram.
How do you make a virtual 3D avatar?
To make a virtual 3D avatar, you have to follow these steps;
Tap on Create avatar option on the ready player. me
Select your body type.
Upload your photo.
The system will scan the uploaded image and produce an avatar sticker similar to yours.
What is
Picuki
?
Picuki is a very useful tool that allows you to browse Instagram, even if you don't have an account on it.
Summarizing
So, that's it. I hope you've comprehended it better than how to create an avatar on Instagram, and you'd have better described the importance of an avatar in a metaverse. So, just go and try making your own avatar and enjoy!